Marine Radio Repair & Alignment
For many of us, 2-way radio is a part of our everyday life. It is a convenient method of communication. We count on them! We depend on them. Without them - we feel we are isolated. Some are units that are established as a base unit to provide means of contacting others or perhaps even a fleet. Others are mobile mounted to keep us informed of changes in our daily routine. Yet another type is a portable or HT (Handie-Talkie). These, we carry around, drop, sit on, etc. Marine Radio defects are often not very serious.
Estimates are always free!
Marine Radio Repairs
Technical Specialists began in 1991 doing much the same as we do now: component level repair of electronics circuits. Marine Radio repair means that we replace the components on the board that are defective rather than replace the entire board. Transistors and ICs cost only a fraction of the cost of a replacement board (typically about 3%). Replacement of these radios usually costs from hundreds to thousands of dollars. Marine Radio Repair is a mere fraction of this.

We service

all

brands including Uniden, Cobra Lowrance, Icom, Kenwood, Hummingbird, SEA, SBA, Midland and all others!

Notice: If you have a Uniden UM525 or 625 with weak or no receive it is very likely to be caused by a component that is no longer available anywhere!

**********

Attention:

If you have any concerns please use email. We will check emails as often as possible.

Currently, our work load is very heavy. Lag time is about 15 business days.

Sorry for the delay.

**********
Our Procedure
Within 15 days (usually less) of receiving the defective Marine Radio, we will diagnose the problem and contact you with the cost of repair. In the majority of cases we have already done so as it is often difficult to be certain there are no additional failures. We don't just get them working and send them back because we back up our Marine Radio repair service with a "2 MONTH GUARANTEE"!
Our Policies
First of all - Estimates are always free! You only pay us for a completed repair. If we can not repair it properly we will not charge you a bench fee. You will pay only the cost of shipping and a small fee of $17.50 to $35.00 for the time required to properly unpack and pack and ship it back. If you bring it in - this fee does not apply. Our labor rate is $35 per hour. You will not find a better price anywhere. How can we do it? It's because we have plenty of technical data, one of the most complete parts inventories anywhere and most of all - many years of experience. Most Marine Radios are repaired in 2 hours while some may take longer. Parts installed range from $1 to $22 typically.

For questions about status, shipping or payments:

For Technical Questions or Answers :
Send an email or call for shipping instructions!

Email Address: (best way )
Call:
Hours:
Mon - Fri: 9-3
Closed Saturday & Sunday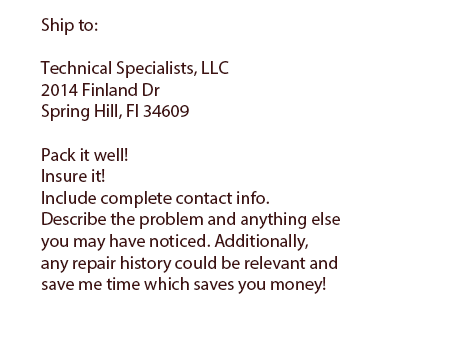 Other services include Ham (Amateur) Radio Repair !
Copyright© 2006 Technical Specialists, LLC- All Rights Reserved